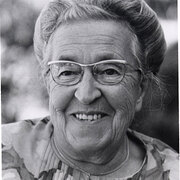 Corrie ten Boom
(1892–1983)
Yleistieto
Kanoninen nimi

Virallinen nimi

Muut nimet

Syntymäaika

Kuolinaika

Hautapaikka

Sukupuoli

Kansalaisuus

Syntymäpaikka

Kuolinpaikka

Kuolinsyy

Asuinpaikat

Amsterdam, Netherlands
Haarlem, Netherlands
Herzogenbusch concentration camp
Ravensbrück concentration camp
California, USA
Scheveningen, Netherlands

Koulutus

Ammatit

Organisaatiot

Palkinnot ja kunnianosoitukset

Lyhyt elämäkerta

Corrie ten Boom was born on 15 April 1892 to a working-class family in Amsterdam, Netherlands, near Haarlem. Named after her mother, Cornelia, but known as Corrie all her life, she was the youngest child of Casper ten Boom, a jeweler and watchmaker. Her father was fascinated by the craft of watchmaking and often became so engrossed in his work that he forgot to charge customers for his services. Corrie had three older siblings: Betsie, Willem, and Nollie. Her three maternal aunts, Tante Bep, Tante Jans, and Tante Anna, lived with the family.

She trained to be a watchmaker herself, and in 1922, she became the first woman to be licensed as a watchmaker in The Netherlands. Over the next decade, in addition to working in her father's shop, she established a youth club for teenage girls, which provided religious instruction and classes in the performing arts, sewing, and handicrafts. She and her family were Calvinist Christians in the Dutch Reformed Church, and their faith inspired them to serve their society, which they did by offering shelter, food and money to those who were in need.
Tilastot
Teokset

111

Also by

1

Jäseniä

18,301

Suosituimmuussija

#1,198

Arvio (tähdet)

4.3
Kirja-arvosteluja

200

ISBN:t

331

Kielet

17

Kuinka monen suosikki

19

Keskustelun kohteita

261