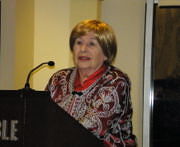 Yleistieto
Virallinen nimi

Muut nimet

Fairfax, Ann (pseudonym)
Tremaine, Jennie (pseudonym)
Crampton, Helen (pseudonym)
Chesney, Marion (maiden name and pseudonym)
Ward, Charlotte (pseudonym)
Beaton, M. C. (pseudonym) (

näytä kaikki

7)
Chester, Sarah (pseudonym)

Syntymäaika

Kuolinaika

Sukupuoli

Kansalaisuus

Syntymäpaikka

Kuolinpaikka

Asuinpaikat

Ammatit

Suhteet

Lyhyt elämäkerta

Marion Chesney was a very prolific author, born in 1936 in Glasgow, Scotland. She started her first job as a bookseller in charge of the fiction department in John Smith & Sons Ltd. While bookselling, by chance, she got an offer from the Scottish Daily Mail to review variety shows and quickly rose to be their theatre critic. She left Smith's to join Scottish Field magazine as a secretary in the advertising department, without any knowledge of shorthand or typing. She quickly got the job of fashion editor instead. She later moved to the Scottish Daily Express, where she reported mostly on crime. This was followed by a move to Fleet Street to the Daily Express where she became chief woman reporter. She married Harry Scott Gibbons, the paper's Middle East Correspondent and had a son, Charles. The family later moved to the United States where Harry had been offered the job of editor of the Oyster Bay Guardian. When that didn't work out, they went to Virginia, where Marion worked as a waitress in a greasy spoon on the Jefferson Davies in Alexandria while Harry washed the dishes. Both then got jobs on Rupert Murdoch's new tabloid, The Star, and moved to New York. Anxious to spend more time at home with her small son, Marion began to write historical romances in 1977. Marion wrote over 100 of these historical romances under her maiden name Marion Chesney, and under the pseudonyms: Ann Fairfax, Jennie Tremaine, Helen Crampton, Charlotte Ward, and Sarah Chester. Finally becoming fed up with all eras from 1714 to 1910, she began to write contemporary detectives stories in 1985 under the pseudonym of M. C. Beaton. A trip to Sutherland on holiday and a course at a fishing school inspired the first Constable Hamish Macbeth story. The family later returned to Britain and bought a croft in Sutherland where Harry reared a flock of black sheep and Charles went to school in London. When Charles finished school, they moved to the Cotswolds where Agatha Raisin was created.

Erotteluhuomautus

Marion Chesney also writes under the pseudonyms of Ann Fairfax, Jennie Tremaine, Helen Crampton, Charlotte Ward, M. C. Beaton, and Sarah Chester. More of her books are being reedited as Marion Chesney or M. C. Beaton.
Tilastot
Teokset

235

Also by

16

Jäseniä

50,651

Suosituimmuussija

#300

Arvio (tähdet)

3.5
Kirja-arvosteluja

1,690

ISBN:t

4,287

Kielet

13

Kuinka monen suosikki

74

Keskustelun kohteita

892