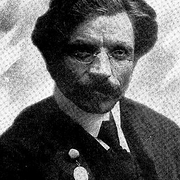 Sholom Aleichem
(1859–1916)
Yleistieto
Virallinen nimi

Muut nimet

Syntymäaika

Kuolinaika

Hautapaikka

Sukupuoli

Kansalaisuus

Maa (karttaa varten)

Syntymäpaikka

Kuolinpaikka

Asuinpaikat

Ammatit

Suhteet

Kaufman, Bel (granddaughter)
Kaufman, Lyala (daughter)
Waife-Goldberg, Marie (daughter)
Beylin, Asher (secretary)

Lyhyt elämäkerta

Sholem Aleichem's pseudonym, meaning "peace be with you," is a common greeting in Yiddish and Hebrew. He's often referred to as the "Jewish Mark Twain" because of the two authors' similar writing styles (and their use of pen names). When Mark Twain heard of this, he reportedly said, "Please tell him that I am the American Sholem Aleichem." Sholem Aleichem and his wife had six children; the American writer Bel Kaufman is their granddaughter.
Tilastot
Teokset

335

Also by

23

Jäseniä

4,187

Suosituimmuussija

#6,009

Arvio (tähdet)

3.9
Kirja-arvosteluja

53

ISBN:t

271

Kielet

16

Kuinka monen suosikki

14

Lisätietoja

2

Keskustelun kohteita

98